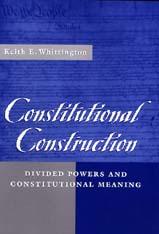 Constitutional Construction: Divided Powers and Constitutional Meaning (Cambridge: Harvard University Press, 1999) Buy It!
Harvard University Press description
Constitutional Construction argues that the Constitution has a dual nature. The first aspect, on which legal scholars have focused, is the degree to which the Constitution acts as a binding set of rules that can be neutrally interpreted and externally enforced by the courts against government actors. This is the process of constitutional interpretation. But according to Whittington, the Constitution also permeates politics itself, to guide and constrain political actors in the very process of making public policy. In so doing, it is also dependent on political actors, both to formulate authoritative constitutional requirements and to enforce those fundamental settlements in the future. Whittington characterizes this process, by which constitutional meaning is shaped within politics at the same time that politics is shaped by the Constitution, as one of construction as opposed to interpretation.
Whittington goes on to argue that ambiguities in the constitutional text and changes in the political situation encourage political actors to construct their own constitutional understandings. The construction of constitutional meaning is a necessary part of the political process and a regular part of our nation's history, how a democracy lives with a written constitution. The Constitution both binds and empowers government officials. Whittington develops his argument through intensive analysis of four important cases: the impeachments of Justice Samuel Chase and President Andrew Johnson, the nullification crisis, and reforms of presidential-congressional relations during the Nixon presidency.
Reviews
"A bolt of scholarly lightning." -- John Harrison, Constitutional Political Economy
"Whittington's book is among the most important recently published about constitutional theory and history." -- Mark Tushnet, Journal of Interdisciplinary History
"This is a superb, pathbreaking book that demonstrates the dual nature of constitutional change. . . . Like all paradigmatic, pathbreaking scholarship, this book raises important theoretical issues and subjects for future empirical study. It is must reading for a wide range of scholars of American institutions and political development, law and courts, history, and American political thought." -- Ronald Kahn, American Political Science Review
"This book is an important addition to modern constitutional theory. Whittington brings to life an old but not well understood idea that constitutional development is the product of judicial interpretation and binding rules and of political practice." -- Joel Grossman, Choice
"The quality of this book's history is every bit as good as the quality of its political science." -- Craig Ducat, Law and Politics Book Review
"Constitutional Construction offers renewed vigor to a tired field and should provoke some fresh thinking by constitutional scholars." -- Jeremy Rabkin, The Weekly Standard
"A major theoretical contribution to the perennial debate on the...fundamental, recurrent questions in American constitutional law."—James E. Bond, Humane Studies Review
"Constitutional Construction provides a needed corrective to the works of constitutional theorists who focus solely on jurisprudential issues. . . Whittington concludes that scholars need to look beyond the courts and recognize the multifaceted nature of the Constitution."—Michael Ross, Journal of Southern History