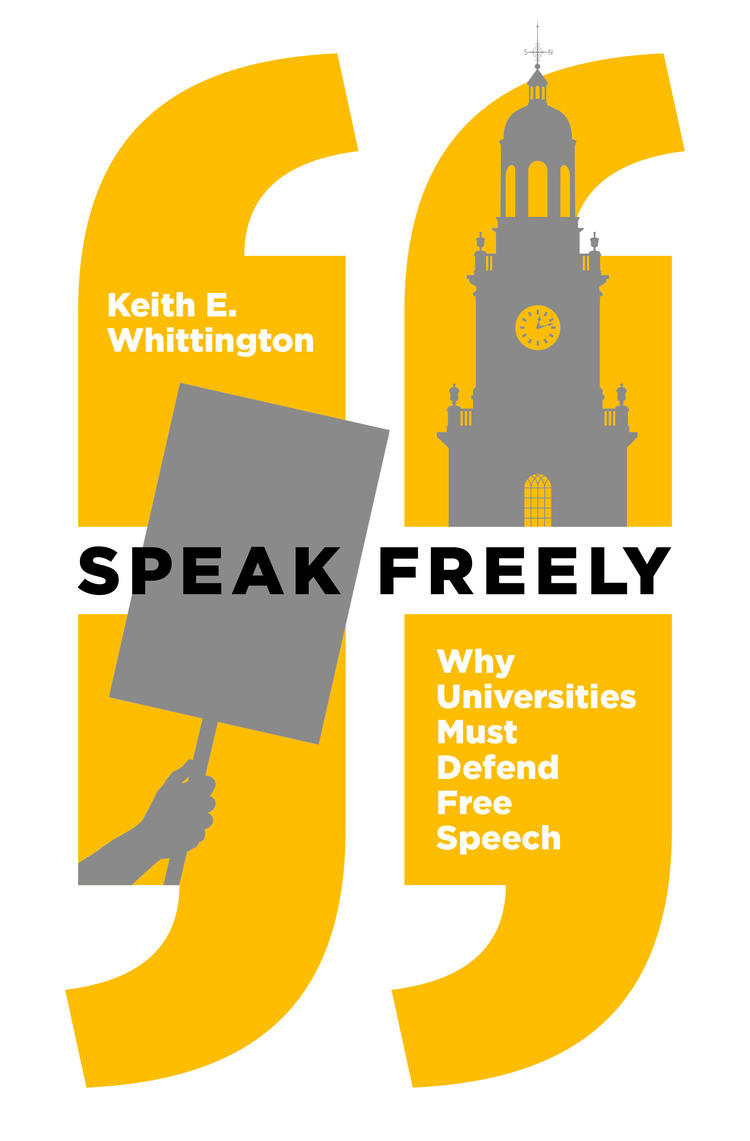 Speak Freely: Why Universities Must Defend Free Speech (Princeton: Princeton University Press, 2018). Buy It!
Selected as Princeton University Pre-Read for 2018
Winner of the Association of American Publishers PROSE Award for Education
Winner of the Heterodox Academy Open Inquiry Award for Exceptional Scholarship
Part of the New Forum Books series
Princeton University Press Description
Why free speech is the lifeblood of colleges and universities

Free speech is under attack at colleges and universities today, with critics on and off campus challenging the value of open inquiry and freewheeling intellectual debate. Too often speakers are shouted down, professors are threatened, and classes are disrupted. In Speak Freely, Keith Whittington argues that universities must protect and encourage free speech because vigorous free speech is the lifeblood of the university. Without free speech, a university cannot fulfill its most basic, fundamental, and essential purposes, including fostering freedom of thought, ideological diversity, and tolerance.

Examining such hot-button issues as trigger warnings, safe spaces, hate speech, disruptive protests, speaker disinvitations, the use of social media by faculty, and academic politics, Speak Freely describes the dangers of empowering campus censors to limit speech and enforce orthodoxy. It explains why free speech and civil discourse are at the heart of the university's mission of creating and nurturing an open and diverse community dedicated to learning. It shows why universities must make space for voices from both the left and right. And it points out how better understanding why the university lives or dies by free speech can help guide everyone—including students, faculty, administrators, and alumni—when faced with difficult challenges such as unpopular, hateful, or dangerous speech.

Timely and vitally important, Speak Freely demonstrates why universities can succeed only by fostering more free speech, more free thought—and a greater tolerance for both.
Reviews:
"Keith E. Whittington has written the best of the recent books on free speech and higher education."--James Stoner, Law and Liberty
"[A] sophisticated and coolheaded defense of free speech."--Peter Berkowitz, Real Clear Politics
"Involve[s] readers in the pleasures of confronting a difficult problem, treating the dangerous views of determined adversaries with an open mind and proceeding with greater confidence as a result. This summer, Speak Freely will be distributed to every Princeton freshman for consideration and discussion. That's a start."--Jonathan Marks, Wall Street Journal
"[Keith Whittington's] book provides a cogent and compelling analysis of the 'troubling currents swirling through college campuses'. . . . Speak Freely supplies clarity and good sense to a subject that has been receiving a lot more heat than light. . . . Mr. Whittington adds a timely plea to every American, inside and outside of the academy, to give more attention and support to the foundational principles of teaching and research."--Glenn C. Altschuler, Pittsburgh Post-Gazette
"A timely defense of intellectual debate and critical thinking. . . . In the current divisive political climate, Whittington shows why safeguarding the civil exchange of diverse ideas is an urgent need."--Kirkus
"[O]ffers a timely and very sophisticated treatment of free speech and academic freedom on American college and university campuses." -- Allyson Mower, Intellectual Freedom Blog of the American Library Association
"Speak Freely is a measured, eloquent argument that American colleges are moving in a dangerous direction, toward a world where speech is only allowed if it supports the dominant belief system." -- George Leef, James G. Martin Center
"To value the university is to value the free speech that characterizes the university's goal and function." -- Allen Mendenhall, The Federalist
"Keith Whittington's new book, Speak Freely: Why Universities Must Defend Free Speech, is a welcome antidote to the worst of campus politics and a reaffirmation of what makes universities great." -- Wilson Shirley, The Federalist
"[R]estores a crucial element to the ongoing debate surrounding free expression on campus: principle. It cuts through the knee-jerk rhetoric and hypocrisy that so often infects the speech issue to bring the conversation thoughtfully back to basics. . . . The book is simultaneously a warning and a call to action. Princeton is wise to give copies to all students and faculty as part of the university's annual "Pre-read" program. Other schools should follow its lead. " -- Joseph W. Yockey, Public Discourse
"Whittington provides a comprehensive foundation for those interested in the theory, tradition, and future of free speech." -- Lindsay Shepherd, Society for Academic Freedom and Scholarship
"Speak Freely offers distinctive and valuable timely contributions to thinking about the importance of speech both within universities and within society at large ." -- Wayne Moore, Law and Politics Book Review
"Keith Whittington's Speak Freely is an outstanding summary of the case for freedom of speech at colleges and universities. The book exempli­fies the kind of civility, reasoned inquiry, and dedicated search for truth that it repeatedly calls for." -- Jack M. Balkin, Academe
"Whittington has written a bold and honest book reiterating the responsibility of universities to defend free speech with the commitment to age-old liberal values of tolerance and critical inquiry" -- Shelley Walia, The Tribune (India)
"One of the nice things about Speak Freely . . . is its clear-sighted emphasis on the university's core purpose." -- Robert Simpson, Times Literary Supplement
"Though firmly rooted in current events . . . Whittington provides the most scholarly treatment of these issues." -- Stuart Chinn, Tulsa Law Review
Extended Media Discussions:
"John Stuart Mill's Big Idea: Harsh Critics make Good Thinkers," Big Think (May 8, 2019) Watch Online
"Keith Whittington: College Trustees Must Defend Free Speech," ACTA Blog (January 23, 2019) Read Online
"Keith E. Whittington on his book, Speak Freely," Rorotoko interview (January 2, 2019) Read Online
"Freedom of Speech: The Pursuit of Ideas and Truth on College Campuses," Activate World podcast (November 6, 2018) Listen Online
"Is Free Speech in Danger on College Campuses?" Conversations with Jim Zirin (November 1, 2018) Watch Online
"Episode 68: Keith Whittington," Unregistered Podcast with Thaddeus Russell (October 12, 2018) Listen Online
"Grappling with Free Speech on the Campus," Princeton Info (September 12, 2018) Read Online
Princeton University First-Year Pre-Read Assembly (September 8, 2018) Watch Online
"Free Speech on Campus" Wisconsin Public Radio's The Morning Show (July 16, 2018) Listen Online
"Free Speech on Campus -- Interview with Keith E. Whittington," Viewpoint (June 29, 2018) Watch Online
"Speak Freely with Professor Keith Whittington" on So to Speak Podcast (May 31, 2018) Podcast
"Speak Freely: Why Universities Must Defend Free Speech," Cato Daily Podcast (May 24, 2018) Podcast
"Speak Freeley: Why Universities Must Defend Free Speech," Federalist Society Practice Group Podcast (May 24, 2018) Podcast
Conversation with Kirby Wilbur on KVI Talk Radio Seattle (May 4, 2018) Podcast
"Freedom and American Higher Education: A Conversation with Keith Whittington" on Law Liberty Talk (May 1, 2018) Podcast
"How Bad is the University Free Speech Problem" on The David Pakman Show (April 27, 2018) Watch Online
"Speak Freely and Other Heresies" on Power Line (April 26, 2018) Podcast
"Dr. Keith Whittington Encourages Us to Speak Freely" on Degree or Not Degree (April 18, 2018) Podcast
Speak Freely on Free Thoughts (April 13, 2018) Podcast
Speak Freely 0n The Tom Woods Show (April 12, 2018) Podcast
"Speak Freely: Author Discusses his new Book," Inside Higher Ed (April 3, 2018) Read Online
Cato Institute Book Forum on Speak Freely (March 29, 2018) Watch Online
"Speak Freely: An Interview with the Author and an Excerpt," Princeton Alumni Weekly (March 7, 2018) Read Online
Endorsements:
"Freedom of speech is crucial to the university and democracy. Keith Whittington provides a deep exploration of the reasons why—and carefully examines contemporary challenges on college campuses."—David Boaz, executive vice president of the Cato Institute and author of The Libertarian Mind
"Speak Freely is a thoughtful and compelling account of how colleges and universities came to embrace the value of free expression as central to their mission, why they should remain faithful to that value in the face of current controversies, and how they should best approach and address these issues. Carefully reasoned, balanced, and persuasive, this book will be a valuable guide for anyone who wants to better understand what's at stake in today's disputes over free speech on campus."—Geoffrey Stone, University of Chicago Law School
"If John Stuart Mill were around today, this is the book he might write about the free speech crisis on college campuses. Keith Whittington drills deep beneath the law and the excesses of political correctness to explain why universities' foremost mission is to make and spread knowledge, even at the cost of discomfort, offense, or pain. At a time when many universities have lost their way, Speak Freely exemplifies the clarity, civility, and compassion that they—and we—so badly need."—Jonathan Rauch, author of Kindly Inquisitors: The New Attacks on Free Thought
"No other book so accessibly presents the fundamental principles of the free speech tradition and applies them to contemporary campus controversies—ranging from the heckling or disinviting of campus speakers to attempts to censure faculty for social media postings. A compelling defense of the university as an enclave of reason, Speak Freely is fresh, illuminating, galvanizing, and persuasive."—Jeffrey Rosen, National Constitution Center and George Washington University Law School
"An astute, crucial reminder that free speech and a diversity of perspectives are necessary prerequisites for a vibrant intellectual life. Whittington's persuasive case for both comes at a critical time for all members of the university community, as well as our larger society. Speak Freely is essential reading for everyone who is concerned about higher education and intellectual freedom."—Nadine Strossen, former president of the American Civil Liberties Union and author of HATE: Why We Should Resist It with Free Speech, Not Censorship